Magnetic Drive Seal-less Pump
AMA Series
AMA is a series of high capacity pumps used for handling large quantities of liquids in chemical unloading and chemical transfer applications. The metal armor is lined with fluoroplastics and is suitable for handling hazardous chemicals in an outdoor environment. The AMA-Series chemical liquid pump is designed to conform to ISO 2858 and ISO 15783 standards.
Features
Metal armored pump with corrosion-resistant lining.
Reinforced to handle high capacity applications.
Simple and sturdy design with rigid shaft system.
Heavy-duty design for dynamic shaft system.
High-efficiency pump design.
Interchangeable with standard ISO dimensional pumps.
Specification
Pump Capacity: Up to 108 m3/h (1,800 lpm or 475 GPM)
Pump Head: Up to 76 m (250 ft)
Power Range: 5.5 kW - 18.5 kW (7½ - 25 hp)
Casing Material: CFRETFE
Type: Horizontal, Single Stage, Centrifugal
Construction: Magnetic Drive, Plastic Lined, Sealless
AMA-Series Family of pumps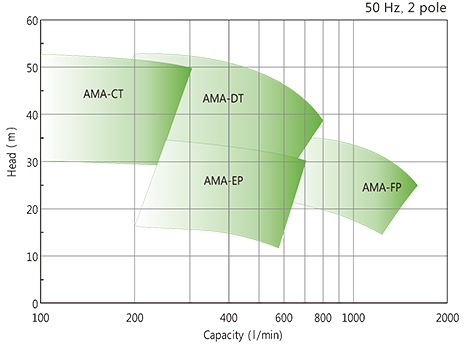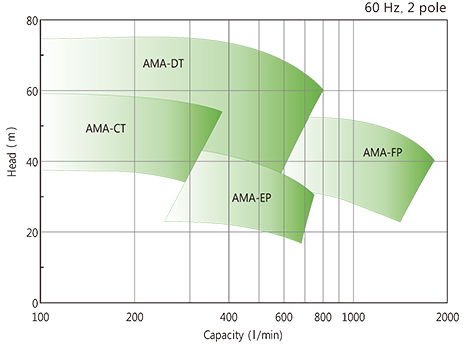 Model
AMA-CT
AMA-DT
AMA-EP
AMA-FP
Suction x Discharge (mm)
50 x 32
(50 x 40)
65 x 40
65 x 50
80 x 65
50 Hz
Rated Capacity (l/min)
300
400
500
1000
Rated head (m)
49.9
50.9
32.3
34.9
60 Hz
Rated Capacity (l/min)
300
400
500
1000
Rated head (m)
56.3
73.3
37.6
51.3
Motor Output (kW)
5.5 or 7.5
11, 15 or 18.5
5.5 or 7.5
11, 15 or 18.5