Sealless Magnetic Drive Pump
AM Series
These are small, light-duty magnetic drive sealless pumps for the safe handling of corrosive chemicals. Typical uses include production systems, labs, and sampling systems. The AM-Series are sealless magnetic drive pumps. The chemicals are completely sealed within the pump with no leakage. This protects the environment and pump operators from exposure to the chemicals. No special tools are needed to install the pump. The simple design makes it very easy to use and maintain.
Features
Small, light-duty, fully plastic corrosion-resistant pump.
Simple construction, easy to install and maintain.
Leak-free to handle corrosive, hazardous, and dangerous chemicals.
Stable flow rate with no pulsation.
Various connection options to fit with your system.
Ideal for small chemical systems, chemical sampling, and laboratory applications.
Specification
Pump Capacity: Up to 8 m3/h (135 lpm or 35.5 GPM)
Pump Head: Up to 11.5 m (37.5 ft)
Power Range: 65 W - 250 W (1/12 - ⅓ hp)
Casing Material: PP, GFRPP, PVDF, CFRETFE
Type: Horizontal, Single Stage, Centrifugal
Construction: Magnetic Drive, Sealless
AM-Series Family of pumps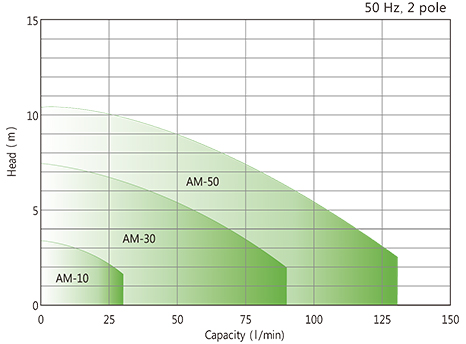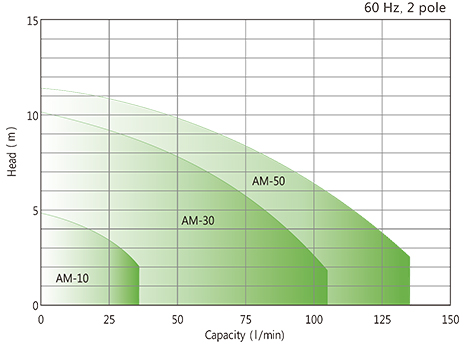 Model
AM-10
AM-30
AM-50
Suction x Discharge (mm)
Thread
G ½
G 1
G 1
Union
15
25
25
Flange
-
20
20
Frequency (Hz)
50
60
50
60
50
60
Rated Capacity (l/min)
20
40
50
80
Rated Head (m)
2.8
4.4
6
7.8
7
8
Motor Output (kW)
0.065
0.18
0.25