PFA-Lined Magnetic Drive Process Pump
AME Series
AME-series pumps are heavy-duty process pumps designed with metallic armor and high purity PFA-lining to handle the toughest applications and for transferring high purity aggressive chemicals. These magnetic drive heavy duty PFA lined pumps are designed to be reliable and leak-free for applications with temperatures up to 150 oC through a combination of material selection and strong structural design. The AME-Series heavy duty PFA lined pumps are designed to ISO 2858 standards.

Features
Metal-armored, heavy-duty chemical process pumps.
Easily handles the toughest and highly aggressive chemicals.
Leak-free design for high-temperature applications up to 150℃.
High-purity PFA available for minimal contamination to process chemicals.
Simple construction for minimal maintenance and easy parts replacement.
ISO dimensional to easily and quickly replace existing pumps.
Specification
Pump Capacity: Up to 180 m3/h (3,000 lpm or 792 GPM)
Pump Head: Up to 88 m (288 ft)
Power Range: 1.5 kW - 30 kW (2 - 40 hp)
Casing Material: ETFE, PFA
Type: Horizontal, Single Stage, Centrifugal
Construction: Magnetic Drive, Plastic Lined, Sealless
AME-Series Family of pumps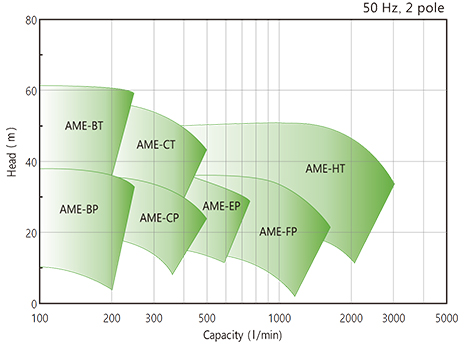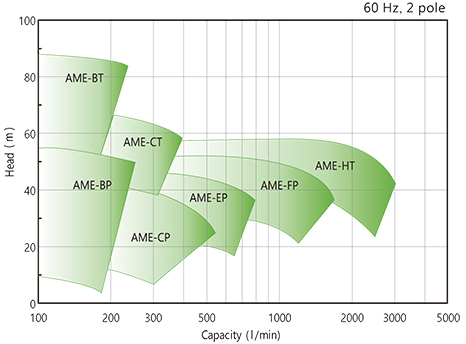 Model
AME-BP
AME-BT
AME-CP
AME-CT
AME-EP
AME-FP
AME-HT
Suction x Discharge (mm)
40 x 25
40 x 25
50 x 32
50 x 40
50 x 32
50 x 40
65 x 50
80 x 65
100 x 80
50 Hz
Rated Capacity
(l/min)
180
180
333
400
500
833
2500
Rated Head
(m)
34.4
61.1
35.6
49.5
32
32
43.3
60 Hz
Rated Capacity
(l/min)
180
180
333
400
500
1000
2500
Rated Head
(m)
37
65.7
35.3
54.8
35.6
48.1
52.2
Motor Output (kW)
1.5, 2.2 or 3.7
5.5 or 7.5
1.5, 2.2 or 3.7
5.5 or 7.5
5.5 or 7.5
5.5 , 7.5, 11, 15 or 18.5
11, 15, 18.5, 22 or 30